About Keepermax®
Keepermax is a goalkeeping academy that offers safe, fun year-round goalkeeping education and training programs in Connecticut and Florida. Our vision at Keepermax® is to produce TOP FLIGHT goalkeepers for youth, collegiate and professional levels.
Our academy founders and managing partners are Javier Decima, (Fmr Goalkeeper / B.S in Psychology, USCA ADV NAT GK DIPL) and           Andres Gomez, (Fmr Pro Goalkeeper / M.B.A / USSF B license).
Our mission at Keepermax® is to provide exceptional training and development opportunities for goalkeepers of all ages and skill levels. Our goal is to help each goalkeeper achieve their full potential by creating a supportive and challenging environment that promotes growth, learning, and excellence. We strive to instill a strong work ethic, discipline, and self-confidence in our goalkeepers through a curriculum that emphasizes technical, tactical, physical, and mental aspects of the position. Our experienced coaches are committed to providing personalized instruction, feedback, and guidance to help each goalkeeper achieve their goals.
Our goalkeeper academy ETHOS are: respect, loyalty, sense of belonging, integrity, generosity, cohesion, self-confidence, commitment and total transparency.
We believe that our students' success on the field is built on a foundation of character, respect, and sportsmanship. We aim to cultivate these values in our goalkeepers and help them become not only great players but also well-rounded individuals.
Our training programs offer a Keepermax® online community newsletter, on demand digital video game analysis, events, media programs and our own line of trending and affordably priced goalkeeper gear. At Keepermax® we provide the proper goalkeeper learning environment to gain the skills and knowledge necessary to excel in today's modern game. Our goalkeeper training curriculum is deployed through group and individual sessions. We help parents, coaches and clubs by creating an eficient developmental pathway for goalkeepers through our coaching philosophy and training methodology. 
Ultimately, our goal is to produce confident, skilled, knowledgeable, athletic and competitive goalkeepers who are ready to excel at the highest levels of the sport. 
Javier Decima
Co-Founder & Managing Partner
Fairfield  University Men's Soccer 
Associate Head Coach / Goalkeeper Coach
Beachside Soccer Club
Coaching Certifications United Soccer Coaches
Advanced National Goalkeeping Diploma
National Diploma
Keepermax® Goalkeeper Academy
Andres Gomez
Co-Founder & Managing Partner
Saint Peters College Men's Soccer  
Former Assistant Coach / Goalkeeper Coach 
Saint Francis College Men's Soccer  
Former Assistant Coach / Goalkeeper Coach
Pro Goalkeeper Career
MLS -NY/NJ Metro Stars (NY Red bulls)
USL First Division Puerto Rico Islanders
USL Pro Select- Westchester Flames
Coaching Certifications USSF
Joe Martin
Academy Goalkeeper Coach
College Career
Fairfield University NCAA Div.1
 UK  Academy Teams
Barnsley FC for 3 years
Nike UK Academy  
Peter Doneit
Academy Goalkeeper Coach
University of Bridgeport
Beachside Soccer Club 
Pro Career 
South Africa- 
USISL-
USL Pro Select -                            
Coaching Certifications
Roger Marment
Academy Goalkeeper Coach
  Coaching Experience
Junior and Reserve team player – Watford FC (English Premier League)
All England Univ Rep Team
FC Lucerne (semi-professional team in Switzerland)
  CT ODP Coach
Coaching Certifications
USSF Nat Youth License
USSF Nat GK License
Matt Turner
Academy Guest Coach  
College Career 
 Fairfield  University (NCAA Div.1) 
Pro Career 
MLS-New England Revolution 
US Men's National Team
EPL-Arsenal FC UK
Marco Atunez
Sports Performance Director
College Career 
Licenses & Certifications 
ACSM Certified Pers Trainer

TRX Level 1
Physical Therapist Assistant
Exercise science methodology
Nutrition-based education
Scott Levene
Academy Guest Coach
College Career 
University of Connecticut (NCAA Div.1) 
Pro Career 
USL - Memphis 901 FC
USL - New York Red Bulls ll 
Juan C. Mosquera
Academy Guest Coach, FL
Keepermax, FL 
United Soccer Coaches, USA 
Former Professional Goalkeeper, CONMEBOL 
Deportivo Cali, Colombia
The Strongest, Bolivia
Ind Santa Fe, Colombia
Lee Robinson
Academy Guest Coach
Pro Career 
SP- Rangers FC
SP- St. Johnstone FC
SP- Kilmarnock FC
SPL- Ostersunds FC 
SC- Queen of The South 
SC- Greenock Morton FC
SLO- Raith Rovers 
SC- Dunfermline Athletic FC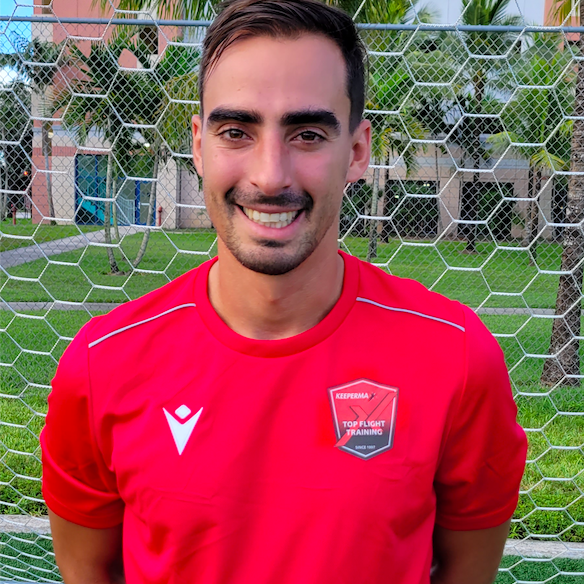 Santiago De Winne
Academy Goalkeeper Coach, FL
St. Thomas University, FL 
Men´s Soccer Coach / Goalkeeper Coach (NAIA)
PSG Academy Miami, FL  
 FC Miami City USLW/USL Men´s